The Tohnichi AMRD3Z is a Slip Type Fine Screw Adjustable Torque Screwdriver with a PIN Vise Drive and a English range of 1-3 In Oz. Check out the Tohnichi AMRD2CN for a tool with an English scale range.

1/4" Dr Adjustable Torque Screwdriver Features:
Same features as RTD except designed for smaller screws
PIN Vise Drive and includes Standard Accessory Bits = thickness X width 0.15×1, 0.2×1.5, 0.3×2
Rotary slip mechanism prevents over torquing
Easy torque adjustment by twisting handle to set scale
Index finger handle designed for precise tightening
Includes

Tohnichi Factory Certificate

of Calibration
Model
Torque Range
Dimensions [mm]
Weight Approx.
Standard Accessories
Overall Length
Grip Diameter
Body
AMERICAN
Min.-Max.
Graduation
L'
D1
D2
D3
L1
l1
l2
kg
BITS
AMERICAN
AMERICAN
+
- Thickness x Width
BMRD3Z
in·Oz
1-3
in·Oz
0.05
93
10
8
13
72
14
13
0.03
#0
0.15 X 1
0.3 X 2
0.2 X 1.5
Note:
Accepts standard, 6.35 (1/4) HEX bit. (sold separately)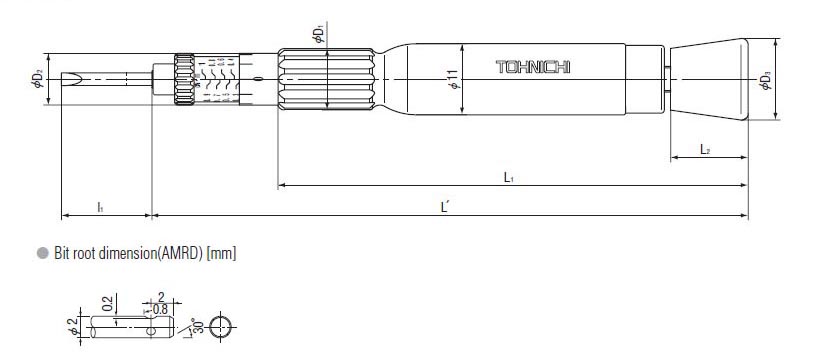 Made In Japan

All Tohnichi products are thoroughly checked and tested at the factory before shipment. The accuracy of each tool should be as stated for each model as a percentage of reading unless otherwise noted. Hand tool durability is based on repeated movement tests over a minimum of 100, 000 cycles by a durability testing machine. Should defects due to faulty materials and workmanship develop within one (1) year from the date of sale, it will be repaired and put in workable condition or replaced free of charge if returned to Tohnichi with proof of purchase. The warranty is not valid if the product has been misused, tampered with, or abused.