Product Description
The Seekonk IT-6 Inline Preset Torque Limiter has a 3/4'' Drive and can be preset between 100-250 Ft Lbs or 135.5-338.9 Nm.
Lead Time: 3 Days
Seekonk IT-6 Inline Torque Limiter Features:
The clutch mechanism inside the preset inline torque limiter prevents over torqueing by completely releasing, even with continued turning or using different tool lengths and adapters.

This torque limiting tool is ok to use with your ratchet or breaker bar.

Laser marked, color coded ID ring prevents confusion when multiple tools are used.

Torques right or left, but is certified to +/- 4% accuracy in one direction only.

AVAILABLE ID COLORS: BLACK, RED, GREEN, BLUE
Shipped with complementary NIST certificate of calibration.
**CANNOT BE USED WITH IMPACT OR PNEUMATIC WRENCHES.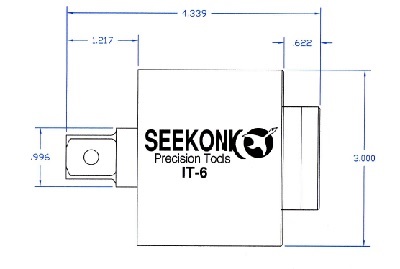 Warranty
Seekonk Manufacturing Products Warranty: Tools are guaranteed for ninety days with a limited parts and labor warranty. This warranty is void if in the judgement of Seekonk Manufacturing, a tool has been altered or abused. Calibration guaranteed for ninety days. Within that time if it is suspected that the tool is out of specification, we will re-calibrate at no charge. One year manufacturing warranty for tools requiring repair due to manufacturing defect.
Product Videos
Product Reviews