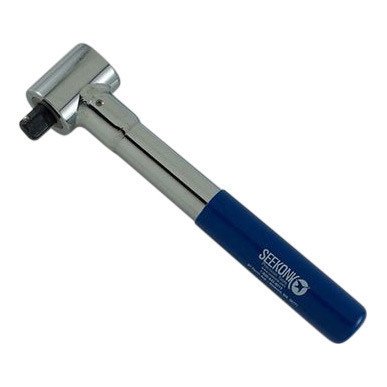 1/2'' Dr 3 - 15 Ft Lbs / 4 - 20.3 Nm Seekonk Preset Slip Type Torque Wrench - MR-1 1/2
SKU:

MR-1 1/2

Condition:

New

Drive Size:

1/2 Inch

Max Ft Lbs:

15

Max Nm:

20.3

Length:

9.75"

Weight:

35 Oz

Type:

Slip

Accuracy:

4%
Product Description
The Seekonk MR-1 1/2 is an L Handle Preset Slip Type Torque Wrench that can be preset between 3 - 15 Ft Lbs English or 4 - 20.3 Nm Metric and can be set to torque in 5 different modes of operation:
Torque right / ratchet left

Torque left /ratchet right

Torque right / lock left

Torque left / lock right

Torque in both right and left directions
Lead time for presetting: 2 days.
Features:
The Seekonk "L" handle slip type torque tools extend fool proof versatility into a convenient "low profile" configuration.
As with our other slip type tools, over torquing is impossible even with continued turning.
Minimum head diameter design allows access into hard to reach areas.
The unmatched performance and endurance exhibited by these tools are made possible by internal components produced on Seekonk's state of the art CNC machining centers.
Both the advanced design and production of these and all other Seekonk products are controlled by our ISO 9001 quality system.
Tools are pre-set at the factory to your requirements.
Under normal use, yearly calibration is sufficient, however; routine calibration checks on a Seekonk Analog or PDTS electronic torque analyzer would be considered prudent.
Standard accuracy +/- 4%.
Shipped with complementary NIST certificate of calibration.